DIY Recycled T-Shirt Dog Toys
I am always looking for ways to recycle things so when I saw this idea for making dog toys from old t-shirts, I knew I needed to try it!
We seem to have a constant supply of old, ratty t-shirts around here so I had plenty to work with!
You can get several toys from one t-shirt but it's fun to have several shirts so you can mix up the colors.
To make your own dog toys:
Cut t-shirts into strips (2-4″ wide, depending on the thickness of your t-shirt fabric)
Choose 3 strips (I made some with all the same color and some with 3 different colors)
Knot one end, leaving an inch or so at the top 
Braid
Knot the end an inch (or more) from the bottom 
Repeat for remaining strips of fabric
These dog toys are easy to make and Leo approved!
I ended up with an entire paper bag full of toys so we plan to take a trip down to the local humane society this week to donate the bag of toys. Any excuse to play with some sweet puppies!
Since making these, I have seen a few other great examples. Be sure to check them out as well for their own unique spin.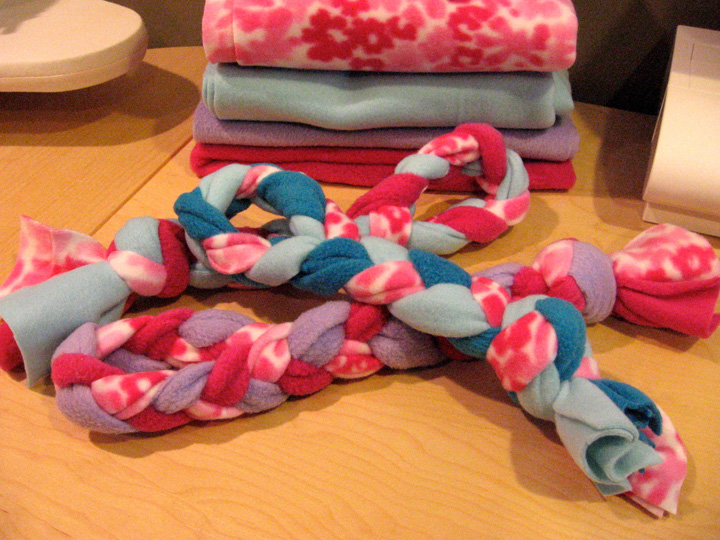 What are your favorite recycling crafts? I would love some more ideas! I have a Pinterest board filled with ideas for recycling crafts I want to try. Let me know what else I should add to the board!
~A