This post contains affiliate links. This means we may earn a small percentage if you make purchases through our links. There is no cost to you. Please refer to "Legal Info" for more information about affiliate links.
While browsing Pinterest one day, I came across this project from The Idea Room. I instantly knew I needed to make one for my mother and saved it under my "gift ideas" board. I finally got around to sewing it in time for Mother's day.
My mom still has a beaded keychain attached to her keys that I made when I was in 5th or 6th grade. It's the shape of a fish, which reminds her of the Jesus fish. It's also pretty big (made out of pony beads) so she doesn't lose her keys easily. She loves the thing but it has definitely seen better days.
This design looked large enough that she wouldn't lose her keys in her purse with the added bonus of the wrist strap for when she isn't carrying a purse! I searched everywhere for Jesus fish fabric and couldn't find any so I settled on this really cute bird fabric (she loves birds) with a matching purple chevron print for the backing. I chose flannel for the inside (chevron) so it would be soft against her wrist.
The Idea Room has an excellent tutorial. You could easily adjust the dimensions to make something long enough to hang around your neck as well.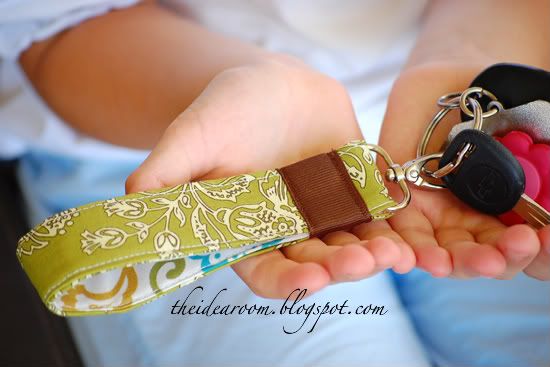 Ever dig into the depths of your purse trying to find your car keys, while simultaneously juggling groceries and a wiggly toddler? Well I have. One too many times.
Yeah, I am pretty sure I need to make one for myself! The purse clips DID come in a two-pack … Any excuse to buy some more cute fabric 🙂
Speaking of cute fabric…the other day, while discussing some of our latest designs, Hubby told me he was going to have to come fabric shopping with me from now on. I prepared myself for a lecture about needing to keep me in line and not buying too much fabric when he continued, saying he wanted to help pick some cute patterns for some of our up-coming designs. WHAT?! Now, he has come to the fabric store with me before and he's really helpful watching Monkey while I browse but I never would have guessed he actually ENJOYED it. I think I will keep this one.
Back to the keychain, head over to The Idea Room for the full tutorial.
As you may have noticed, I love to pin new ideas, try them, and feature them here. [You can see our other attempts at recreating things we've seen on Pinterest here.] Have you made something you think we should try? Share a link with us! We will pin it and consider it for a feature here at Felt With Love Designs!
You can also check out some of the other sewing projects I love on my Sewing Pinterest Board.
Hope you're having a great week!
~A